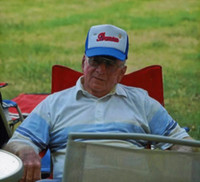 Ronald D. Rinehart Download PDF
March 24, 1929 - February 16, 2018

Ronald D. "Red" Rinehart age 88 of New Vienna passed away Friday, February 16, 2018 at his home. He was born March 24, 1929 in Westboro, Ohio the son of the late Albert and Lena Spinks Rinehart.

Mr. Rinehart had been an over-the-road truck driver for over forty-five years and was a life member of the Star/Orphans Hope IOOF Lodge 182 in Martinsville where he recently received his sixty-five-year pin. Red enjoyed throwing horseshoes, playing cards and hosting pig roasts when he lived on Panhandle Road.

He is survived by his wife of fifty-four years, Carolyn Jean Barrett Rinehart, whom he had married on December 14, 1963 in Leesburg, five children Rod (Sandi) Rinehart of Savannah, Georgia, Rachel Rinehart Bernard of Sabina, Robyn (David Hughes) Rinehart of New Vienna, Lou Ann (Paul) Flint of Loveland, Roni Lynn (Dennis) Jones of Morristown, Tennessee, one sister, Ruthella (Eldon) Mongold of Springfield, two brothers, Gene (Jean) Rinehart of Xenia, Gary (Linda) Rinehart of Wilmington, nineteen grandchildren, thirty great grandchildren and numerous nieces and nephews.

In addition to his parents, he was preceded in death by two sons, Tom and Roland Rinehart and one sister Doris Hilderbrant.

Services will be held 10:00 a.m. Tuesday, February 20th at the Davis-Turner Funeral Home in Lynchburg. Burial will follow in the Martinsville IOOF Cemetery. Friends may call on Monday from 5:00 p.m. until 8:00 p.m. at the Davis-Turner Funeral Home. Odd Fellows memorial services will be presented at 7:45 p.m. on Monday at the funeral home.

Memorial contributions may be made to VITAS Hospice, 11500 Northlake Drive, Suite 400, Cincinnati, Ohio 45249.